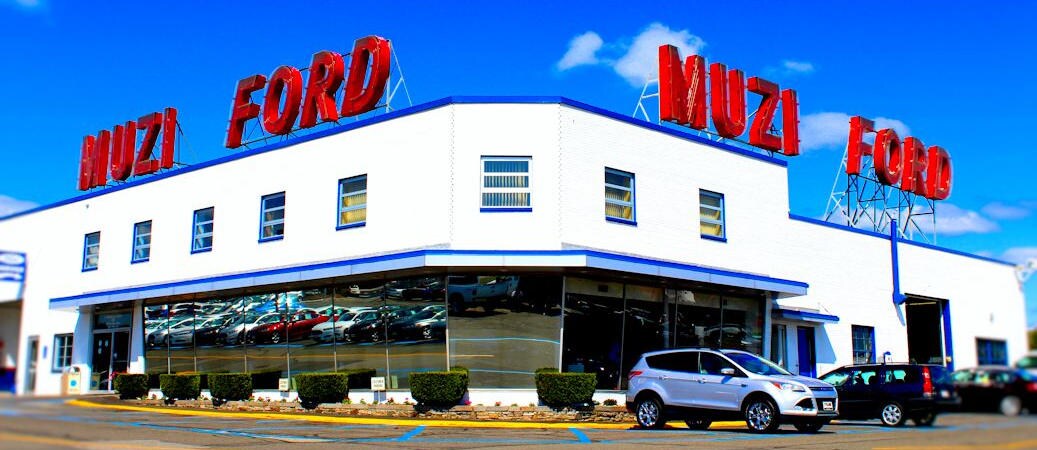 The Muzi Ford Dealership In Needham, Massachusetts
There's a lot more to buying a car than simply getting a good price. In the excitement of choosing a new car or truck, it is sometimes hard to tell what a dealership is really like. How good is the service department? What kind of reputation does the dealership have? These are all very good questions every buy should ask.
At Muzi Ford, we have a proud tradition of savings and service that goes back over 80 years. We're glad that you've given us the opportunity to earn your business and we hope you'll take a few minutes to read on and learn more about our family-owned and operated car dealership.
Muzi Motors: The Early Days
The Muzi story is really a story of the American Dream come true. It all began back in 1926 when John Muzi, an Italian stone cutter, emigrated to the United States to seek his fortune and make a fresh start away from Mussolini's fascists.
During the first few years in America, John tried his hand at a number of occupations, searching for better opportunities and learning more about his newly adopted country. By 1932, he and his wife Bertha were living above a grocery store and restaurant in Newton Upper Falls across from the Echo Bridge Tydol gas station. John was washing dishes at the restaurant.
| | |
| --- | --- |
| Muzi Motors Founder, John Muzi, circa 1924 |      John Muzi explaining the features of a new Chrysler in 1958 |
Watching the activity at the gas station, John decided there was a future in the automobile business. One day before going to work, he asked Bertha to call the Tydol Oil Company and find out what it took to operate one of their gas stations.
When Bertha made the call, the people at Tydol told her the station right across the street was available. That evening, she told John that all Tydol needed was $200 to get started.
Two hundred dollars was a lot of money back in the depression year of 1932. But John didn't hesitate. That very evening he put a sign on his $700 car that read, "FOR SALE $200." He sold the car almost immediately, called Tydol and never looked back.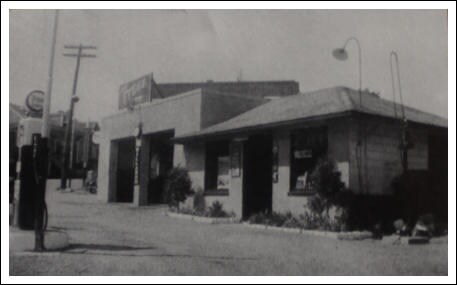 The Genesis of Muzi Motors: John Muzi's The Echo Bridge Tydol Station circa 1935
John Muzi worked hard, took very good care of his customers and learned as he went. From the very beginning business at the Echo Bridge Tydol station began to grow. It grew so well that by 1938 it had outgrown its location. John moved his business to a larger location on old Route 128, across from the Howard Johnson's in Needham. The new facility allowed for more comprehensive service and the business continued to grow.
From Service Station Owner To Automobile Dealer
Muzi's first venture at selling new cars came in 1935, when he became an authorized sub-dealer for Willy's American and Desoto. It wasn't long before he became a dealer in his own right. In 1938, John acquired the Chrysler/Plymouth and Diamond T franchises at the Highland Avenue location.
As his business flourished and the Muzi reputation for customer satisfaction grew, John built a new facility and added franchises. Over the next  10 years, Muzi added Hudson, Dodge Trucks, GMC Trucks, International Trucks and the Willy's/Jeep franchises.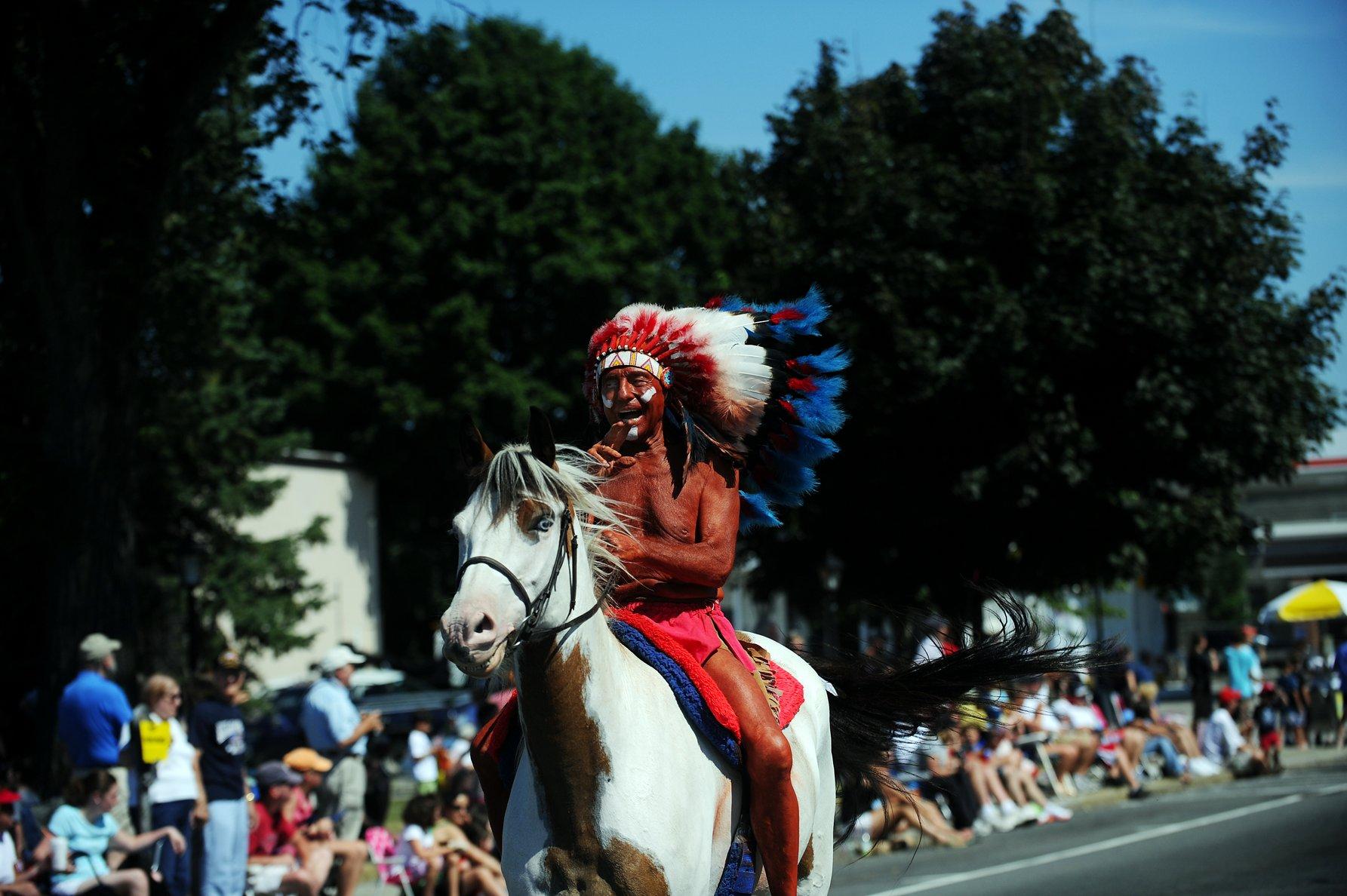 Fred Muzi, second generation owner of Muzi Motors does his annual ride in the Needham 4th of July parade.
By the mid fifties, America's love affair with the automobile was in full swing and bigger and better roads were needed. IN 1956 Muzi was forced to move his dealerships to their current location to make way for the expansion of Route 128 to the major highway it is today.
In 1956, John's son Frederick O.J. Muzi, after graduation from Babson College and serving in the military, entered the family business full time. Today, Fred is still active in the business. Also in 1957, Alpha Romeo and Fiat were added to the Muzi lineup. Jaguar was added the following year.
There were many changes in the American auto industry during the late fifties and early sixties. Some car lines ceased to exist and others slipped from prominence. The Muzi dealerships, too, changed with the times.
Between 1956 and 1963, Muzi continually improved and expanded the new facility. He filled in acres of land left decimated by the construction of Route 128.
The Birth Of Muzi Ford City
In 1963 Muzi acquired the Ford franchise that would make the dealership famous. John and Fred's commitment to customer satisfaction would, over the next 30 years, make Muzi Ford City one of New England's most respected Ford dealers.
John retired in 1966, leaving the business in the capable hands of his son Fred as president, and his son-in-law, Bill Cammarano as vice president. Acting as a team, Fred and Bill have skillfully managed the continued growth of the business.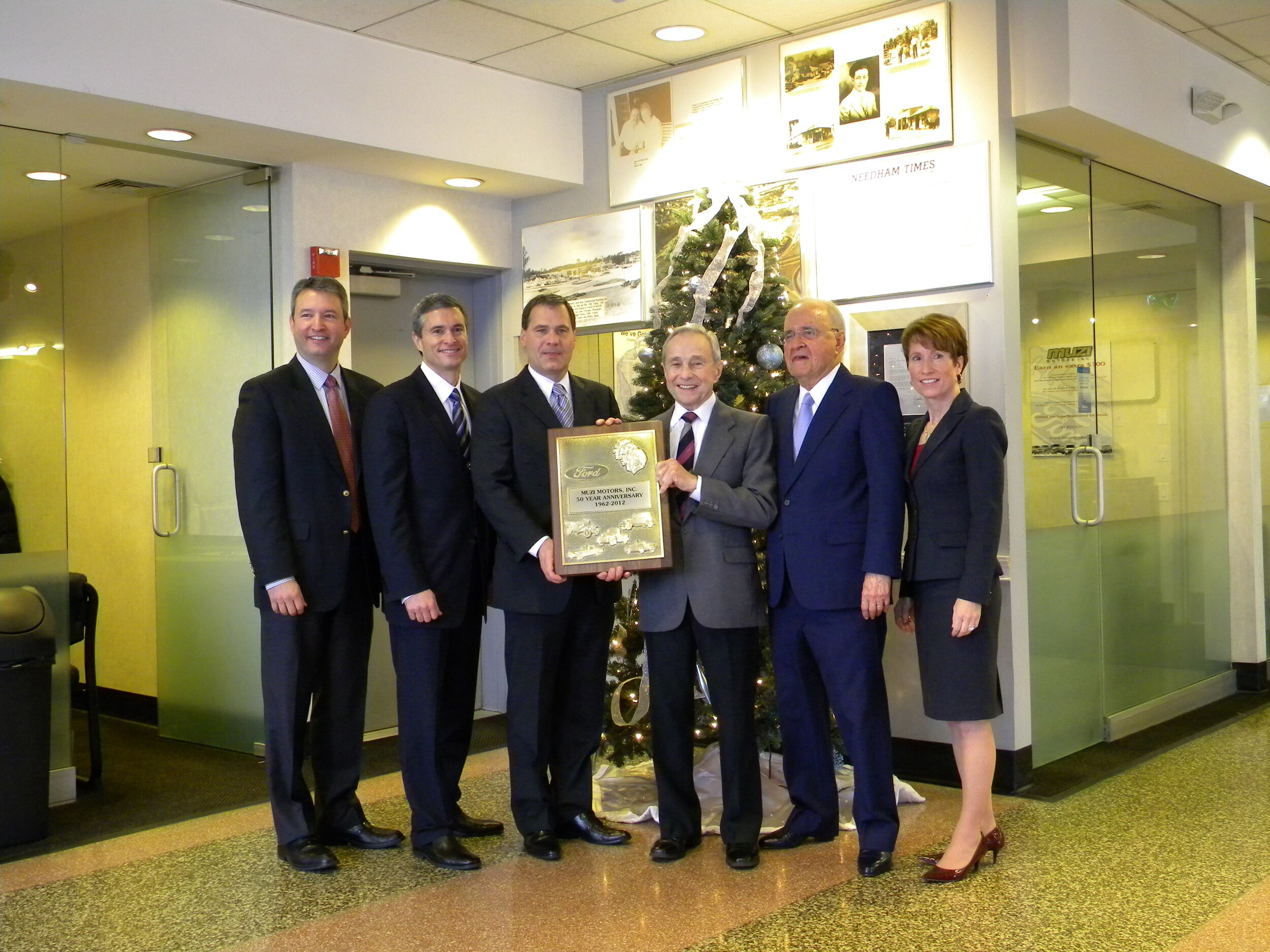 Muzi celebrates 50 years as a Ford Dealer
(l-r) Neal Cammarano, Glen Cammarano, A Ford Executive, Fred Muzi, Bill Cammarano, Dale Sinesi
One of the first expansion projects for Muzi Ford City under Fred and Bill's leadership was the construction of the body shop and reconditioning center behind what is now the Muzi Chevrolet showroom.
In 1989 Bill Cammarano received the TIME Magazine Quality Dealer Award for Business Achievement and Community Service. This very prestigious award is given only to the very best dealers and we are honored to have received it.
Muzi has always been a family-run organization and the next generation is now carrying the torch. Bill Cammarano's children, Neal Cammarano, Glen Cammarano, and Dale Sinesi are now running the day to day operations of the dealership. And, Muzi Ford City just
celebrated it's 50th Anniversary
back in 2012.
Muzi Ford is now renowned as one of the top Ford truck dealerships in the Greater Boston area, carrying a large inventory of the
Ford F-150
, Ford F-250, Ford F-350, Ford Transit Vans, and a wide-variety of work-ready
Ford Commercial Vehicles
.
Muzi Ford: Customer Satisfaction & Community Involvement
The honors that mean the most to us are
the praises of our customers
. We are very jealous of our reputation and go to great lengths to make sure that our customers are happy. That's one reason Muzi has so many repeat customers
For many families, in fact, buying at Muzi is something of a tradition. There's even one local customer who has purchased over 40 new cars and trucks at Muzi Ford City.
 
Muzi Motors Annual Toys For Tots Drive

 
Muzi Motors & Boston College Raise Money For MS

Muzi is a
good corporate citizen
, too. Over the years Muzi has been involved in supporting a wide range of civic, charitable, and environmental organizations.
Muzi, for example, has been a member of the Better Business Bureau for over 50 years. Every year, Muzi proudly donates the use of its facilities to host the Muscular Distrophy Association's Jerry Lewis Telethon. We also support local little league teams, soccer teams, School on Wheels, and a variety of causes in and around Needham, MA area.
Muzi Chevrolet Is Added To The Muzi Ford City Campus
In 1985, Muzi added the Hyundai franchise in a brand new facility built on the same lot as Muzi Ford City. Despite high initial acceptance, public demand for Hyundai cars quickly faded. Fred and Bill began searching for a more stable and well-accepted line of cars to move into the new facility.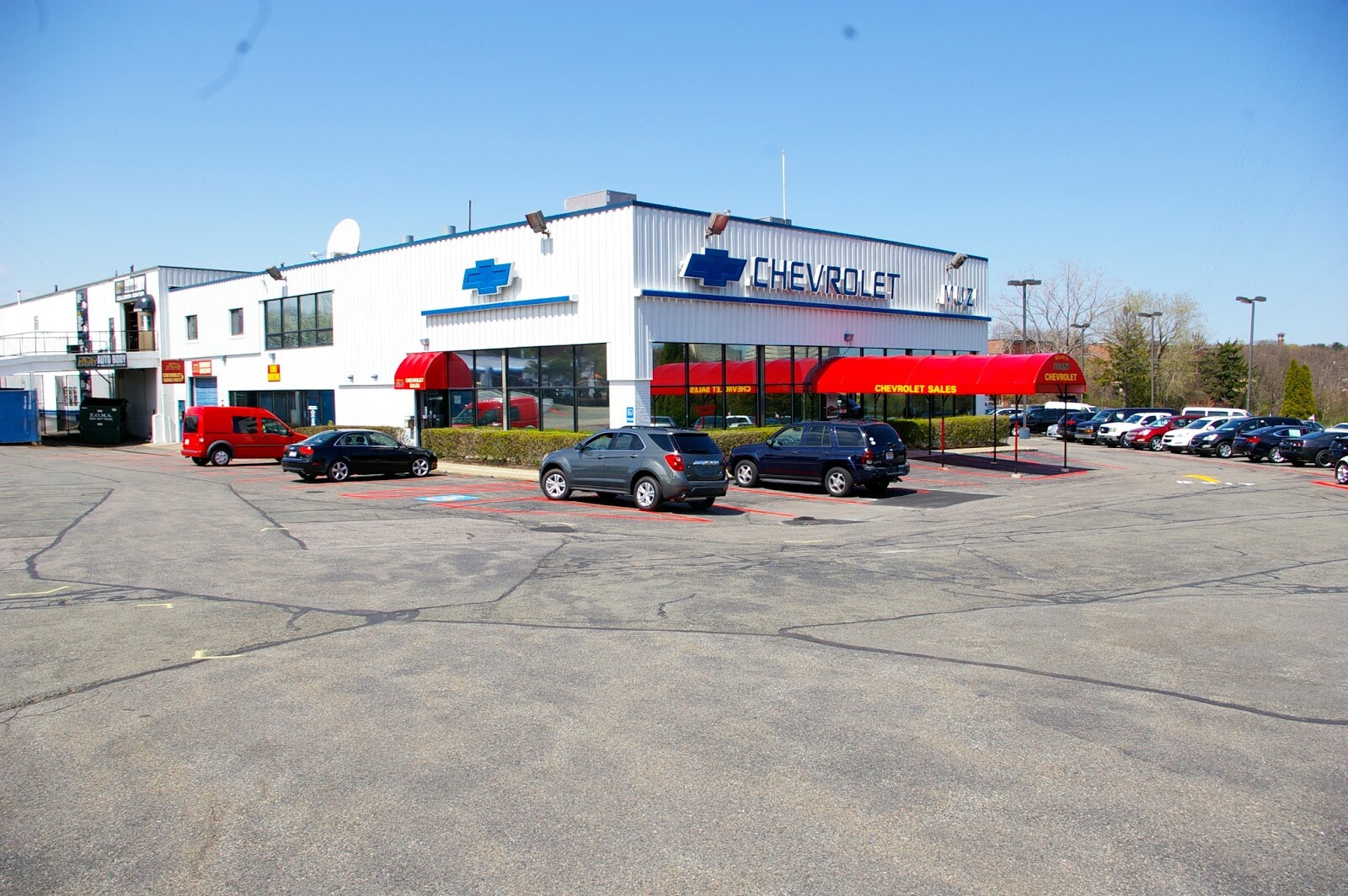 Muzi Chevrolet was added back in February of 1991 and is now one of the top Chevy Dealerships in MA
They found it in Chevrolet/Geo which was added in February of 1991. Not surprisingly, Muzi Chevrolet/Geo has rapidly moved into the ranks of the top dealers in New England.
Muzi Chevy, like the Ford store before it, has taken a customer-centered approach that is focused on providing a car buying experience that is simple, easy and informative. This straightforward approach has lead to unprecedented customer satisfaction and the 2017 Customer Satisfaction Award from Dealer Rater.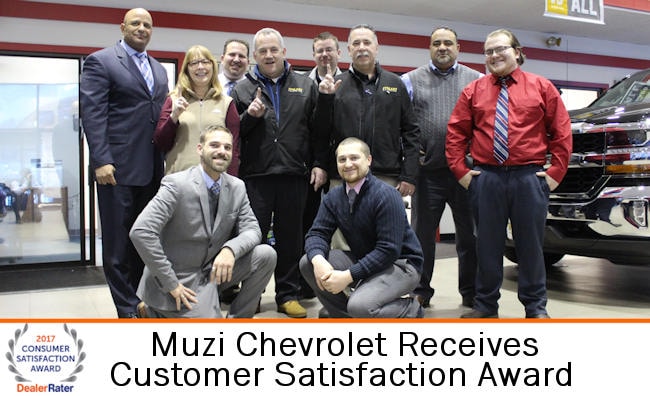 Muzi Chevrolet Received The Prestigious Consumer Satisfaction Award In 2017 
In a time when American car quality is improving and demand for American cars is higher than it has been in years, Muzi is one of the few dealers in New England that offer both a Ford and Chevrolet franchise. 
As the Muzi dealerships look toward the future, under the leadership of Neal Cammarano, Glen Cammarano, and Dale Sinesi, the group is moving into an era that John would never have believed possible. Technology has truly revolutionized the automobile industry.
So if you are in the market for a new car or your vehicle is in need of service, stop by Muzi Ford and Muzi Chevrolet. We are conveniently located right off Route 95 at Exit 19B and we would love an opportunity to earn your business.